Some of us can go right down the wombat burrow on the of specifics of what we want on a burger we have a serious hankering for.
Here is where you can find the best of the best options in Melbourne. Once upon a time, it was a pretty straight forward set of decisions when it came to what we wanted on our burger down at the local milkbar or fish and chip shop. Well, you may have noticed there is now a cornucopia of choices available. Plain old regular bun or the sesame seed option – or brioche for something different maybe? Do you want regular cheese, American cheese, blue cheese or in fact no cheese at all? Then we get into all the protein choices available: chicken, beef, fish, then the vegetarian options such as mushroom and alternative meat choices! Lots of wonderful choice these days.
So if you have a real passion for all that is the modern burger, and you're in Melbourne, and you're allowed outside your door, you've come to the right place to find the right burger joint.
Melbourne has a fantastic selection of burger establishments to choose from. Here is a list of some of the best around.
300 Grams (313 High Street, Northcote)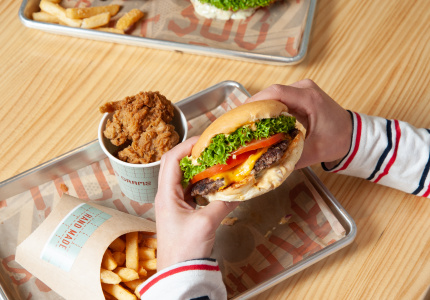 It is a small place, but don't let that stop you if you want to get stuck into either meat-based or plant-based cheeseburgers.